We are now selling the market leading Kasho scissors, used by top stylists the world over and are renowned for quality and precision.
Precision Tools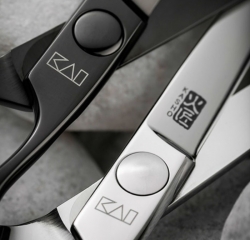 KASHO is used by top stylists the world over and are renowned for quality and precision.
Based on the centuries old art of Japanese Samurai sword forging, KASHO is unmatched in both quality and perfection. Each pair is made from carefully selected high-grade metal and hand finished by a "SHISHO" highly skilled craftsmen. Thanks to the uncompromising choice of metal and forging technique, each scissor has a superior resistance to wear and corrosion. The honed edge blades only meet at the exact cutting point to give the smoothest, sharpest cut, with extraordinary precision, allowing you to work and create with complete ease.
Silver Series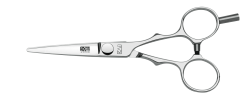 For those who think practicality and artistry cannot mix, the Silver Series is a revelation. Silver provides the finest canvas for KASHO's celebrated mirror-polishing. Silver's lines are modern, clean and ergonomic - displaying the beauty of KASHO's traditional hand finishing to full effect. Silver excels as an all-round cutting tool. Thoughtful touches like the camel back and detachable finger rest make the Silver an exceptional choice for the busy stylist.
Impression Series

Uncluttered by convention and free from preconception, Impression's silhouette is clean and its matt satin finishing graceful. Even the ergonomic details, such as the camel back, offset handle and finger rest subtly enhance the scissors' sense of poise. Impression's semi convex blades are durable high-carbon steel and hollow-ground to give a better cut. Their cutting tension can be adjusted easily, thanks to KASHO's ratchet screw system.
Design Master Series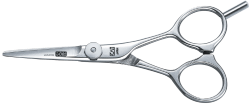 The Design Master Series instantly feels familiar. The satin-finished blades offer decisive sharpness with each cut. The offset handle weight is ideally balanced for minimal fatigue. Thanks to the ratchet screw system, stylists can fine-tune cutting tension in moments. No tools required - just turn the dial. It perfectly encapsulates Desgin Master's ethos of engineering excllence made wholly intutuive.
Sagano Series

Sagano shares the features for which all KASHO scissors are valued like the superb steely alloy, the camel back and offset handle for effortless performance. Sagano stands out too. The curved finger rest is forged in the traditional manner to add graceful appeal. Sagano shares the Damascus ball bearing system integrated with Flat Screw Technology, tastefully inlaid with green ceramic, ensuring each cutting pass is smooth. Sagano offers effortless power with stylish distinction.
Damascus Series

Each piece in KASHO's Damascus Series is perfectly crafted, yet beautifully individual. The blades are crafted from eight layers of premium V10 cobalt alloy steel, resulting in ultimate sharpness and extremely powerful cutting. Thanks to hand-finishing, the unique Damascus patterning promises a one of kind scissor. With KASHO's clever ball bearing system integrated with Flat Screw technology, every cut is always silky smooth.