When Kebelo launched in 2010 the brand set out to give women what they had always dreamed of, but until that point were unable to get. With Kebelo's first in-salon treatment came smooth, shiny, easy to manage, frizz-free hair that lasted for 100 days, whilst giving the freedom to style as mood inspired. Unlike 'Brazilian, keratin straightening systems' which gave women one poker straight style and contained the carcinogenic chemical formaldehyde which worked on the outside of the hair, Kebelo pioneered an entirely new carbocysteine technology working deep inside the coretex strengthening and repairing weakened bonds whilst giving women the power of styling choice.

Advantage Treatment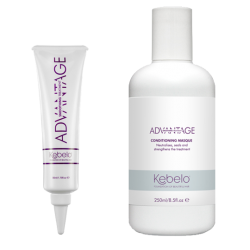 Our best Kebelo treatment yet. Easier to use with better, proven results, giving clients even more shine, strength and smoothness. The NEW micro-gel based formula makes it easier to work with and apply, using less product, reducing vapour and creating better results, each and every time.
Enriching Range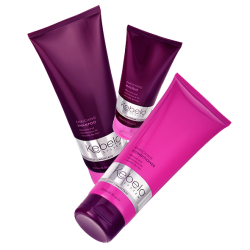 With Guar sugar, Wheat protein, Bran, Grape seed and Argan oil, the Enriching range gives naturally dry hair the rich nourishment needed to stay smooth and shiny.
Revitatlising Range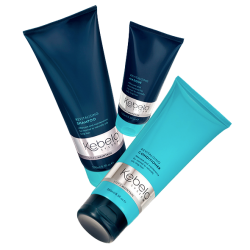 With amaranth, wheat, soy, jojoba, and quinoa protein, the Revitalising range works to replenish normal to oily hair, leaving gloriously shiny, smooth, strong hair with natural body and volume.
Silk Range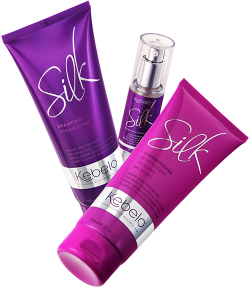 The SILK range controls the frizz, creates smoothness & shine and is suitable for all hair types, whilst leaving hair feeling weightless. Enriched with Jojoba, Argan, Keratin & Quinoa, the range is Sulfate and Paraben free.
Velvet Curls Range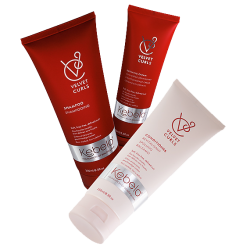 With Coconut Oil, Chamomile and the 'super food' Quinoa, the Velvet Curls range creates the ultimate soft, frizz-free, long lasting, defined curl. This range is SLS & Paraben free.
Clarifying Shampoo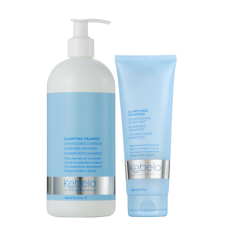 As you exfoliate your skin, you should exfoliate your hair. Kebelo Clarifying Shampoo is the ultimate detox leaving your hair rejuvenated and revived as well as free from any product build up.
Bondage
BONDAGE by Kebelo helps make hair stronger, whilst visibly improving the overall elasticity and texture of the hair. Building on Kebelo's Carbocysteine technology and introducing murmuru seed butter and carob, BONDAGE allows you to push colour to the extreme, whilst strengthening and maintaining the integrity of the hairs's natural bonds. BONDAGE has been created to use every time you tint and bleach as an essential bond strengthener.