Founded in Parma, Italy in 1983 by the Bollati Family, Davines started as a research laboratory, producing high-end hair care products for renowned cosmetic companies worldwide. After a decade of honing their expertise, they began creating their own brand of Davines hair care products exclusively for salons. More than two decades later, the Davines community spans over 83 countries, with thousands of salons stocking the boutique brand. Although Davines continues to grow, with headquarters in Parma, New York City, Paris, London and Mexico City, their roots are firmly planted in their beginnings as a family-owned research laboratory guided by the same desire for quality products with an authentic approach and timeless appeal.
Salon Professional Colour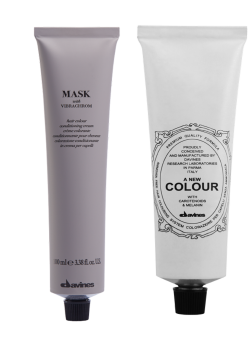 Innovative permanent cream-based colouring system using Vibrachrom™ technology that is unprecedented in the cosmetics world, giving hair intense conditioning power and extraordinarily shiny, long-lasting colour, by penetrating more evenly into the hair structure. Flexible, easy-to-use system with low ammonia smell, ideal for covering white hair, reflect changing, darkening or lightening up to three levels.

Demi-permanent Colour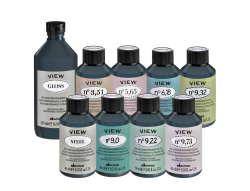 View is Davines' demi-permanent colouring system. Formulated with 88% to 93% natural derived ingredients and is from 95% to 99% biodegradable. Designed to satisfy all the needs of the colourist, the acidic pH ensures extremely shiny hair whilst fully reinforcing the hair structure. Fades beautifully over 6-8 weeks.
The Century of Light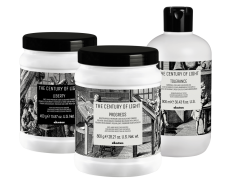 Davines' new bleaching system designed with full respect for scalp and hair. Enriched with an exclusive Hair Protective Booster, it offers absolute certainty in result and unprecedented comfort for both colourist and client.
OI Range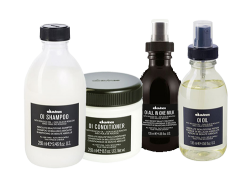 Suitable for all hair types all the products in the OI line contain Roucou oil, a plant native to the Amazon. The oil extracted from Roucou is rich in Beta-carotene which helps restructure the hair and promotes hair growth. It significantly lowers cellular damage due to UV rays, prevents ageing, and is rich in trace elements and ellagic acid, known to be a powerful neutraliser of free radicals. All products are paraben and sulphate free.
Alchemic Range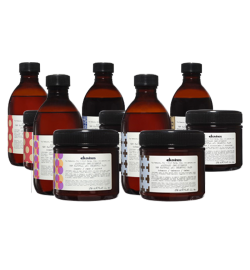 Davines' R&D department chose pure pigments to enrich the formulas of six shampoos and six conditioners that enhance the reflects of natural and cosmetically coloured hair. The pigments deposit on the hair shaft, maintaining the intensity of the reflects between colour services. These products can illuminate and accentuate natural colour, enriching the hair with beautiful shades while providing internal strength, protection and shine.
Essential Hair Care Range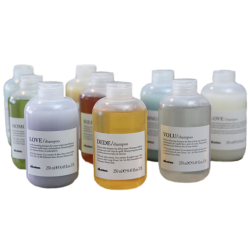 A range of product families for daily hair care, each with their own nickname, and all with the essential desire to do what the name promises. Each family contains select, active ingredients that offer immediate and targeted effects for specific hair needs, and are enriched with anti-oxidant and protective properties. All products are paraben and sulphate free.
Natural Tech Range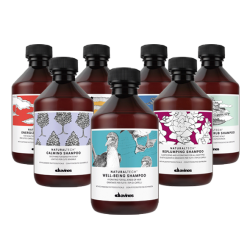 Products and Treatments to solve the most common problems of scalp and hair. The most modern research technologies allowed Davines to formulate natural and extremely high-performance products. Latest generation surfactants create for a thick, creamy lather and the use of essential oils for fragrances with intense and persistence notes enhance the sensory pleasure of the products. All products are paraben and sulphate free.
More Inside Range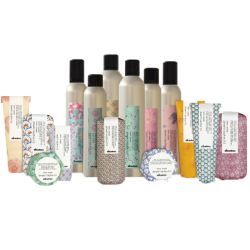 More Inside is a paraben free styling line to shape your creative expression. the products are the result of the scientific know-how of Davines laboratories and of the technical and creative talent of Davines Artistic Director Angelo Seminara, who has accompanied their development up to excellence. The product's strength is its formula which is expressed through blends of active ingredients, identified by factors whose joint power enhances their specific styling and finishing performances.
The Circle Chronicles

The Davines Circles Chronicles are mini miracles. Conditioning masks which are both in salon treatments and retail products.
With six to choose from there is something for everyone!
Heart of Glass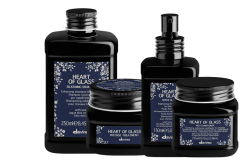 All of the products are designed to highlight the beauty of blonde hair, both natural and bleached, lightened and dyed; or hair that has been exposed to sunlight, the frequent use of the brushes or straighteners, all elements that could weaken its fibre.
Heart of Glass offers a complete hair routine with four products: shampoo, conditioner, treatment and a leave-on illuminating thermal-protective fluid.