K18Peptide™ was patented after scanning and testing the 1,242 decapeptides that cover the entire genome of human keratin proteins. After a decade of research, they discovered one unique sequence unlocking the science to bring strands damaged from chemical services and thermal/mechanical styling back to their original, youthful state - the K18Peptide.
Patented K18 is not just a temporary fix - it's the first product to utilize biomimetics to reconnect keratin chains once broken by bleach, colour and chemical services, resulting in soft, smooth and strong hair with bounce that feels like new. This is Biomimetic Hairscience - and it heals hair in just 4 minutes.


Hair Mask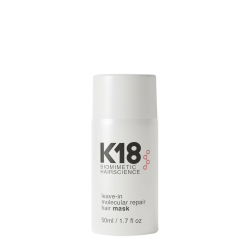 Hair like new. This leave-in mask heals and strengthens hair with lightweight moisturizing benefits to detangle and keep hair smooth and soft, without weighing it down.
Hair Mist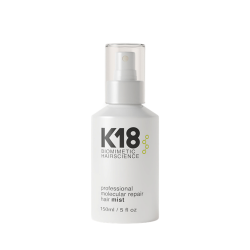 K18 Mist is a pre-service treatment that strengthens hair before a chemical service. The pH level of 7.5-8.0 shifts the cuticle layer to penetrate into hair's cortex and hone in on damage sites.